Mapping for Wayfinding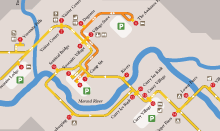 Effective map design becomes a critical component in the design of wayfinding programs for parks, historic sites, trails, and other public places by Meeker & Associates. Each type of map is designed to focus on the scale, complexity, and character of a specific place. Maps must be easy to read and understand. Research studies have shown that visitors are attracted to posted maps. The location of the map in turn becomes a place where other information can be provided to orient visitors and inform them of events or resources.
Symbols & Pictographs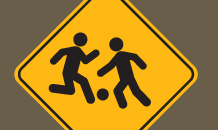 Although symbols are not as universal as some people think, symbols provide a clear way to focus and quantify a message at a glance. For twenty-five years Meeker & Associates has been a leader in the design of symbols and pictographs for recreation and for public and industrial safety. In each project we attempt to simplify the object or action to optimize readability and to make new symbols visually compatible with other symbols in the system.
Design Standards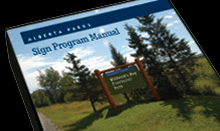 Meeker & Associates is a leading designer of sign standards programs for large park systems in the United States and Canada. In each case, the object is to improve communications with visitors without being intrusive on the landscape. Designs reflect the character of the managing organization and variations in topography and acreage while maintaining a common visual thread throughout the sign system. Careful attention is placed on materials, graphic and editorial quality, and implementation.
Designing for Historic Places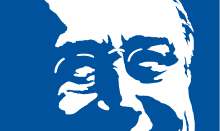 Meeker & Associates has designed wayfinding and information programs for many national historic sites. Our goal is to design site graphics that are quietly integrated into the historic scene but not replicating it. Our goal is to integrate the communication tools into structural forms and graphic materials that are completely compatible with the location. We work to create solutions that are sensitive to the character of place while providing the visitor with tools to navigate and understand the location more effectively.
Wayfinding for Public Places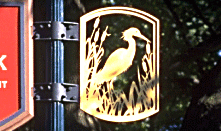 Wayfinding solutions come in many forms ranging from guiding visitors around a community, campus, or region to establishing a sense of place and cultivating public recognition for a little known entity such as a long-distance historic trail. No two projects use the same kit-of-parts, yet they share a process based on content, context, scale, and form. Solutions vary based on the constraints or opportunities of the environment, the character of the place, and the way signage is used.
Planning for Tourism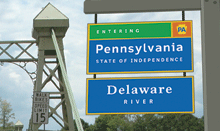 Meeker & Associates provides signage and visitor information systems to bolster tourism — a gigantic economic engine for states. We develop information tools for communities and organizations to use in their efforts to encourage both out-of-towners and residents to visit more than one site and to stay at any one place longer.
Identity Design Applications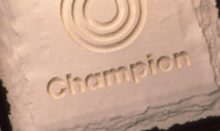 Meeker & Associates develops visual communications programs for businesses, products, and public institutions. We focus on identity, brand management, and applying the brand to products and services in a consistent and appropriate manner to enhance public recognition.
Design for Public Safety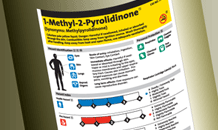 Many of our clients have asked us to solve safety communications and to present our recommendations to national standards organizations. Our task is to present information consistently and without ambiguity to specific audiences that might include individuals who are not familiar with particular hazards. These hazards might be on a national park trail, on a waterway, or in a research laboratory. Our project teams include designers, human-factors researchers, attorneys, writers, and industrial and safety engineers.
Typography & Legibility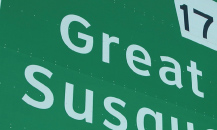 Meeker & Associates has received international recognition for its designs of typefaces and numerals and for its display formats to improve legibility and ease of recognition of road signs. This research and design program began in the early 1990s when we questioned why most road signs used all upper case legends, and why the lettering for freeway sign destinations was so difficult to read at threshold. This program was originally designed to accommodate the older driver, but the effort benefits all drivers.